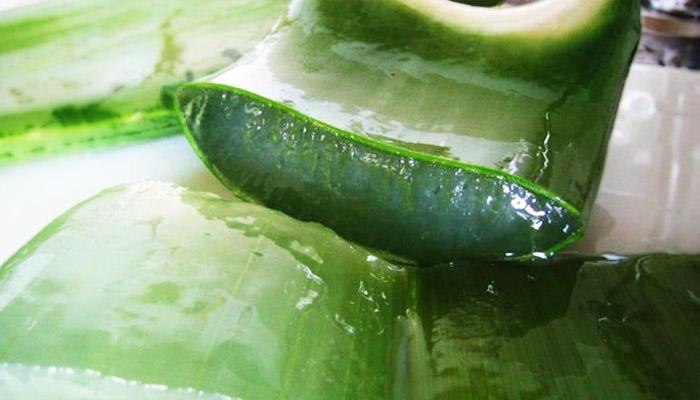 Aloe Vera – Miracle plant, is a herbal medicine for treating various kinds of health problems. It holds 75 naturally active compounds and natural dietary fiber that help in healing process.
Potentially, it also contains skin-healing features. Saponin, a compound found in this plant has anti-inflammatory, anti-fungal as well as anti-bacterial properties which significantly helps get rid of acne and other skin problems.
Acne occurs when skin pores are blocked by excessive oil, bacteria and dead cells. These mostly appears on the face, back or chest. You can get rid of acne using homemade aloe vera gel or best aloe vera products found in the market.
Major chemical elements of Aloe Vera for skin
Chemical Elements

Function

Around 20 Amino acids

Methionine
Threonine
Valin
Glutamic acid
Glycine
Histidine
Proline
Serin
Tyrosine
Glutamine
Aspartic acid etc.

provide nutrition to the skin, strengthening connective tissue of the body and
helps keep the skin soft

12 Anthraquinones

Aloe emodin
Aloetic acid
Aloin
Antracin
Antranol
Barbaloin
Chrysophanic acid
Emodin
Ethereal oil
Cinnamonic acid ester
Isobarbaloin.

help improve digestive system
have analgesic, antifungal and antibacterial properties.

8 enzymes

Aliiase
Alkaline phosphatase
Amylase
Carboxypeptidase
Catalase
Cellulase
Lipase
Peroxidase

help to reduce inflammation and accelerate the curing of owunds.

13 minerals

Sodium
Potassium
Calcium
Magnesium
Manganese
Copper
Zinc
Chromium
Sulfur
Iron etc

assists in minimizing oil production in the skin
reduces bacterial infection as well as inflammation.

Vitamins

Vitamin A (Beta-Carotene)
Vitamin B1 (Thiamine)
Vitamin B3 (Niacin)
Vitamin B2 (Riboflavin)
Vitamin C
Vitamin E and more.

helps to stimulate and heal the skin quickly.

2 Plant Hormones

assists in healing wounds
helps to get rid of inflammation as well as infection.

Lignins

Lignins contain in Aloe Vera enter deep into the skin and works as treatment for skin damage.

Salicylic acid

This acid holds anti-bacterial and anti-inflammatory properties.
How Aloe Vera helps you get rid of acne
Destroys Acne Causing Bacteria
Aloe vera includes substances like polysaccharides and gibberellins which destroy acne-causing bacteria – S. epidermis and P. acnes. In a study conducted among 60 people in 2014 with mild acne, using topical 'Retinoid' cream along with Aloe Vera discovered reduction in acne. Researchers predict that it may be because Aloe Vera can enter into the skin to destroy bacteria hiding in blocked skin pores.
Minimizes Excess Oil from the Skin
Excessive oil on your skin gets mixed with dirt blocking the pores of the skin and causing acne. This results in irritation on skin and red patches.
As mentioned above, 13 different minerals present in Aloe Vera minimizes oil production in the skin, and can reduce bacterial infection as well as inflammation.
Using Aloe Vera gel or cream can help minimizing excess oil from the skin. Choline salicylate, a chemical found in Aloe Vera works as an anti-inflammatory substance that lessens the risks of acne.
Accelerates Wound Healing Caused by Acne
The elements like Auxin and Gibberellin found in Aloe vera helps in accelerating wound healing. According to James Duke, PhD., discovered that aloe vera speeds the healing of wounds as well as several other skin problems including acne.
Reduces Inflammation caused by Acne
Aloe Vera contains a natural moisturizing compound – Choline. It can soothe itchiness caused by acne. Plus, Choline salicylate present in Aloe Vera works as an anti-inflammatory essence.
You can use Aloe Vera in two ways. One way is applying Aloe Vera gel prepared at home directly on the affected areas. Another way is using best Aloe Vera products found in the market.
Helps in Removing Acne Marks
Using Aloe Vera gel or cream helps in removing acne marks. A research discovered that Aloe Vera helps in improving collagen production throughout wound healing process. It also creates a defensive coat over the skin to accelerate the healing process of acne and removing acne scars.
DIY for Homemade Aloe Vera Mask to Get Rid of Acne
Ingredients
Fresh Aloe Vera leaves
Fresh lemon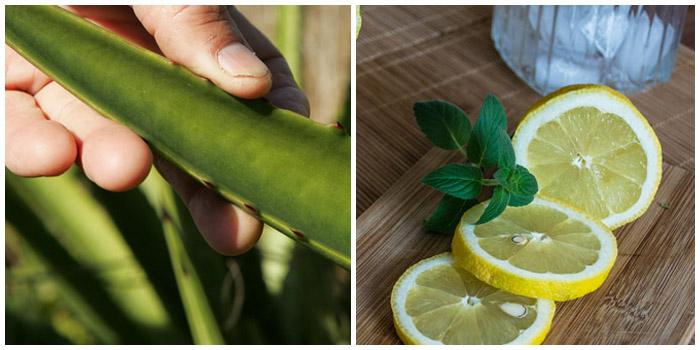 Procedure for applying the mask
Extract Aloe vera gel from freshly picked aloe vera leaves
Add few drops of lemon in it.
Apply the mixture on face and massage gently.
Leave the pack on your face for around 20 minutes.
Rinse it off with water
This will help get rid of acne scars as well as dark spots.
Unquestionably, acne can sadden you. So, just start using Aloe Vera gel prepared at home or best aloe Vera products found in the market to get rid of acne.