One of the easiest dish to prepare for breakfast or lunch is pancakes. With some additional ingredients, you can even make it healthier and nutritious.
It only takes a couple of minutes to prepare this healthy and tasty dish with the instructions given below.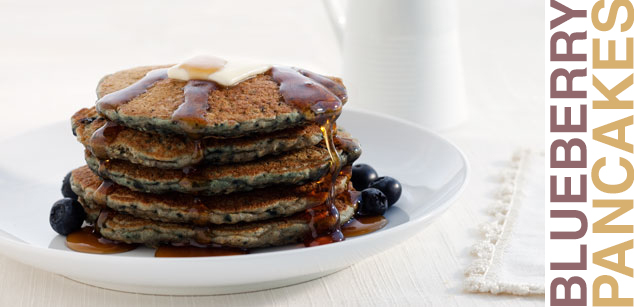 | | |
| --- | --- |
| Total time | 1 hour 30 minutes |
| Servings | 4 to 6 |
| Difficulty level | Very Easy |
Ingredients for Blueberry Pancakes
1 cup of all purpose flour
1 tablespoon baking powder
½ tablespoon powdered sugar
A pinch of salt
¾ cup of milk
1 egg
2 tablespoons unsalted melted butter
½ cup of blueberries
A little oil
Utensils Required
2 mixing bowls
Spoons
Nonstick Pan (medium sized)
A Cup
Fish slice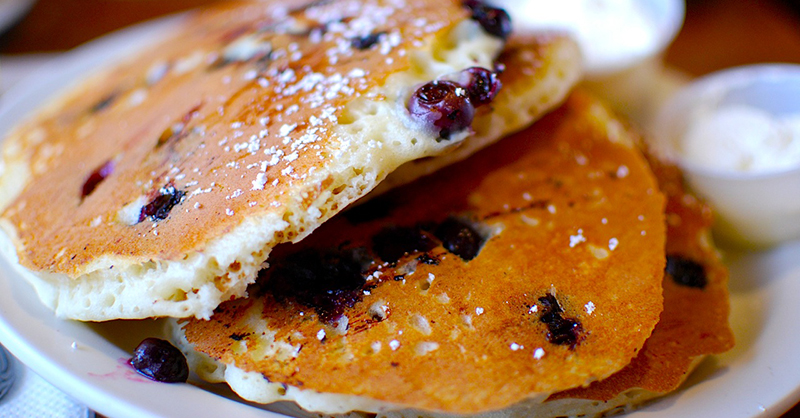 Steps to Make Blueberry Pancakes
Step 1: Sift dry ingredients
Sift all the dry ingredients (flour, baking powder, sugar and salt) through a sieve to make sure there are no large particles or lumps.
Step 2: Mix dry ingredients
Mix thoroughly and whisk all the dry ingredients in a mixing bowl.
Step 3: Whip wet ingredients
In another bowl whip all the wet ingredients. Combine milk, egg and melted butter.
Step 4: Mix and set aside for 1 hour
Mix the dry and wet ingredients. Mix thoroughly but make sure the batter does not dry up or toughen. Only mix until the dry flour disappears. Lumps doesn't matter much even if it is present. Baking powder takes some time to work so, set aside the batter for 1 hour.
Step 5: Blueberries
Cut the blueberries into halves or quarters and mix it to the batter.
Step 6: Make pancakes
Heat oil in a pan in medium heat and spread the oil evenly in the pan.
Pour quarter cup of the batter in the pan.
Flip the pancakes over.
Remove when the color changes into brown on both sides.
Repeat the same process for 3 more times in batches with quarter cup of batter each time.
Remove with a fish slice and serve hot when the pancakes are brown on both sides or until bubbles appear on the surface.
Tips to Remember
Measure everything with the same sized cup.
It makes 4 to 6 servings.
Serve it with extra yogurt or blueberries.
It can be kept in fridge and consumed later.
Cinnamon, vanilla extract, nutmeg, lemon juice or maple syrup (1 teaspoon respectively) can also be added for extra flavor.
Add more blueberries to the batter if required.
You can top the pancakes with jam or peanut butter.