Pineapples always get related to Hawaii or other tropical islands, even though they are found all over the world. No matter what people relate pineapples to, the taste of pineapple is very peculiar which is remembered by the brain easily. Pineapple is considered very healthy fruit. So, the taste comes with a lot of health benefits and nutrients. It has Vitamins, Fiber and many other minerals.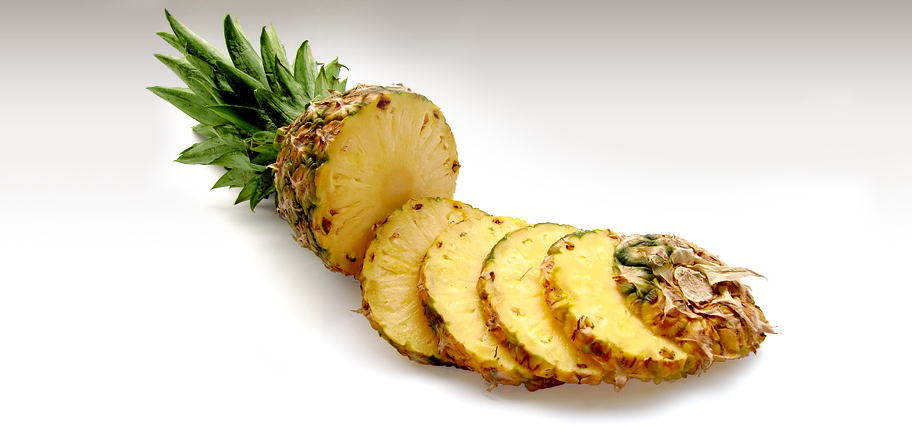 Nutrition per Pineapple (approx. 900 gm)
| | |
| --- | --- |
| | % Daily Value* |
| Total Fat 1.1 g | 1% |
| Saturated fat 0.1 g | 0% |
| Polyunsaturated fat 0.4 g | |
| Monounsaturated fat 0.1 g | |
| Cholesterol 0 mg | 0% |
| Sodium 9 mg | 0% |
| Potassium 986 mg | 28% |
| Total Carbohydrate 119 g | 39% |
| Dietary fiber 13 g | 52% |
| Sugar 89 g | |
| Protein 4.9 g | 9% |
Vitamins and other Nutrients in Pineapple
| | | | |
| --- | --- | --- | --- |
| Vitamin A | 10% | Vitamin C | 721% |
| Calcium | 11% | Iron | 14% |
| Vitamin D | 0% | Vitamin B-6 | 50% |
| Vitamin B-12 | 0% | Magnesium | 27% |
Pineapple Health Benefits
Some of the major benefits of pineapples are as follows:
Anti-oxidants and Anti-cancer Attributes
Anti-oxidants help the body prevent the damage caused by free radical cells of the body. These cells can cause various diseases like heart disease, atherosclerosis, arthritis and cancer. Pineapple consists of a large amount of anti-oxidants which prevents cancers, aging, high cholesterol level and many other diseases.
Anti-inflammatory Property
Anti-inflammatory property of pineapples make it useful for people suffering from arthritis as it helps prevent inflammation. It is also beneficial for people suffering from bronchitis. It works by reducing inflammation in bronchial tubes.
Immune Booster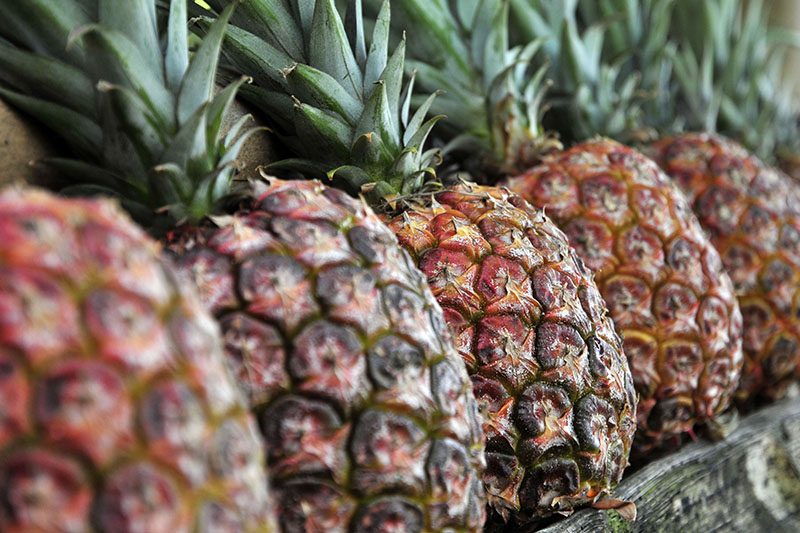 Pineapple helps to improve the immune system. Pineapple contain Vitamin C and Bromelain, which help against many diseases and infections like cough and cold. It does not allow micro organisms like bacteria and virus attack the body. It helps cure sore throat, sinusitis, swellings, etc.
Relieves Nausea
Pineapple helps in easing nausea and morning sickness in pregnant women. It also prevents nausea due to motion sickness. Bromelain enzyme found in pineapple helps in removing some intestinal parasites like tapeworms. Vitamin C, Fiber and Bromelain also helps in digestive process and relieves nausea.
Reduces the Risk of High Blood Pressure
People with high blood pressure (or people who want to be at low risk) should include pineapples in their diet. Pineapple intake reduces the risk of high blood pressure as it contains potassium and a little amount of sodium.
Skin Betterment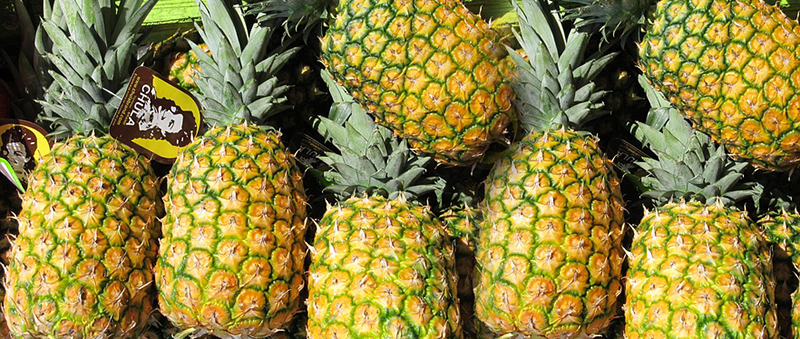 Pineapple helps you look younger by increasing collagen synthesis in the body. It makes the skin firm and flexible. Amino acids and vitamin C are important for skin to repair damaged skin. It can cure acne and other inflammatory skin problems. It can be used to exfoliate your skin by removing dead skins and increasing blood flow. It keeps skin hydrated and moisturized. It can also be used as a scrub for cracked feet too.
7. Hair Loss Prevention
Vitamin C and Bromelain, found in abundance in pineapple, can prevent hair loss as it's anti-oxidant fights free radical damage. Pineapple also has anti-inflammatory properties which relieves many conditions of scalp inflammation and prevents many infections. It enriches hair follicles with many nutrients and increases the thickness and elasticity of the hair.